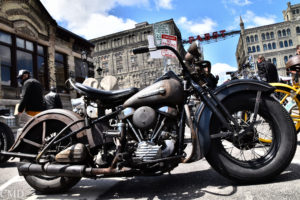 We've been told that the Brewtown Rumble offers one of the best locations for the for a vintage motorcycle show. You can't go wrong with the historic Pabst Brewery as your back drop. The most coveted photo any attendee wants – their bike under the iconic Pabst sign.
Historic Pabst Brewery
901 W. Juneau Ave, Milwaukee, WI 53233
Make time at the Rumble to enjoy a tour of Best Place (old Pabst union bar) and a tour the Pabst Brewery. Tours are held at 11 am, noon and 1 pm for $8.
This historic neighborhood is undergoing a renaissance of sorts. What does that mean? There's a fair amount of construction and neighborhood improvements including the building of the new Milwaukee Bucks arena and entertainment district. We'll provide an update closer to the event with instructions on the best way to enter the brewery complex.