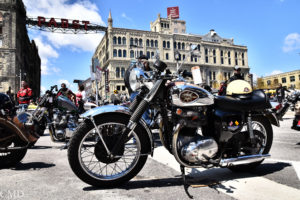 This year the Brewtown Rumble will feature a weekend full of events in Milwaukee. Follow us on Facebook to stay up-to-date.
Thursday, June 1 | 5-9 PM
Brewtown Rumble Bike Night at the H-D Museum featuring Katie Mack and The Moan powered by Milwaukee Harley-Davidson. Enjoy food and drink specials inside and outside MOTOR Bar & Restaurant including MOTOR Bike Night Koozie Special $3 Miller High Life beers or waters all season long (Koozies available at The Shop on the Museum campus). All bikes unite at the Harley-Davidson Museum!
Friday, June 2
WMSE and The Times Cinema Friday Freak Show featuring Quadrophenia with Mods vs. Rockers Run starting at the new Fuel Cafe on 5th Street at 8 PM. Purchase tickets in advance for the movie. Click here for more details.
Saturday, June 3
10 AM – 2 PM
The Rumble weekend continues with Bikes at the Bern in Menomonee Falls at Walter and Emma Davidson's country house (yes, Davidson and in Harley-Davidson). The event will feature antique motorcycles, tractors, engines, and civil war displays along with music by The GET HOT band and delicous BBQ pork smoked on site. This event is a benefit for the Davidson Yell and Tell Foundation. Bikes at the Bern will end with a ride from the Falls to downtown Milwaukee for the Rumble pre-party hosted by Royal Enfield of North America.
2 – 9 PM
Royal Enfield Pre-party (226 N. Water St.) featuring music by DJ Dori Zori from Radio Milwaukee and food/beverages from Catering by Gypsy Taco and Boone and Crockett. More details…
Sunday, June 4 | 11 AM – 6 PM
3rd Annual Brewtown Rumble Vintage Motorcycle Show
11:00 AM:  WMSE DJ
12-1:30 PM:  The Grovelers
2 – 3:30 PM: Devil Met Contention
3:30 PM:  Bike Show Awards Ceremony
4 – 5 PM:  Devil Met Contention