For our 5th Anniversary, we've got five days full of moto-fun planned! Follow us on Facebook to stay up-to-date.
Here's the rundown:
Brewtown Rumble Schedule of Events
11 am – Get ready to Rumble!
11:45 am – Blackbelt Theatre – Milwaukee Brewing Company Stage
1:30 pm – Ms. Brewtown Rumble – Milwaukee Brewing Company Stage
2:30 pm – The Atomic Spins – Milwaukee Brewing Company Stage
3:30 pm – Bike Show Awards – Milwaukee Brewing Company Stage
4:15 pm – The Atomic Spins – Milwaukee Brewing Company Stage
5 pm – Go home or go to the Iron Horse Hotel for the Rumble after-party!
The Bands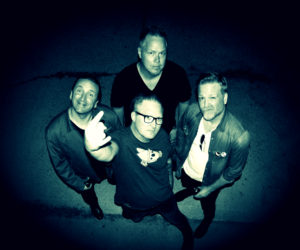 Black Belt Theatre
John Kucera – Lead Vocals & Guitar
Tim Cook – Bass & Vocals
Steve Adams – Drums
Bert Zweber – Guitar
Black Belt Theatre live and breathe the DIY rock-and-roll ethos of the mid-west. But this is no basement band. The pedigree here is strong, with all of the members having come from prior groups with national attention. In the mid-90's, John's band Alligator Gun was signed to Relativity Records and became a seminal punk rock powerhouse that included future members of The Promise Ring and Dashboard Confessional. Tim and Steve comprised one half of Bender, a popular Milwaukee rock act that released an album on TVT Records in 2000 and toured the country with several major artists. Bert was also a key part of the late 90's post-grunge Milwaukee explosion, being a member of The Buzzhorn, who released an album on Atlantic Records. The common thread that ties the four of them together is their love for late 70's/early 80's power rock. Think Cheap Trick, Thin Lizzy, UFO, April Wine, etc. Throw in modern influences like Danko Jones, Eagles of Death Metal and the like, and you have a recipe for a fresh, but somehow familiar sound.
The Atomic Spins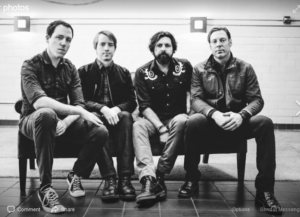 Jeffrey Miller – Vocals & Guitar
Steve Tych – Bass & Vocals
Jason Dove – LeadGuitar & Vocals
Aaron Fasting – Drums
The Atomic Spins sound leans toward the rock acts that came to power in 1970's Detroit, and the nascent alternative scenes of the later 80's. For the last few years they have been rolling down the road looking for cool places to play and great bands to play with – searching for that elusive point where hometown jobs are no longer necessary. Pulling influences from classics Zepplin, Santana, and Rush, more modern rockers Queens of the Stone Age, Smashing Pumpkins, and The Hold Steady, The Atomic Spins pen most songs with full collaboration.