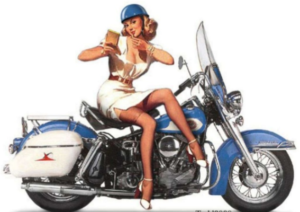 Contest Details
Must be 18+ years old.
Classic Glamour pin-up themed or inspired outfits. Such as: Dresses, circle and pencil skirts, wiggle dresses, blouses, capris, high-waisted shorts, etc. Military style outfits are welcome, tattoos as welcome!
This is a family-friendly event. No nudity, no exposed belly buttons, no flashing, no pasties, no lingerie outfits, no bikinis/thongs and no Halloween style costumes.
We encourage entries of all shapes and sizes, as this is not a beauty contest, but one to let your personality shine! We are looking for someone who is positive, professional, kind and courteous.
Registration Information
Click here for the application form.
Entry Requirements:
Bio: Full legal name, pin-up or stage name, phone number, email
Photo required (encouraged with motorcycles, but not mandatory; no nudity)
$25 entry fee (paid to paypal.me/mkemoto) – please to do not pay fee until entry is confirmed from brewtownpinup@yahoo.com
Must own, ride and/or appreciate motorcycles
Answer in 250 words or less: How have you empowered other women in your community?
Application to be filled out and sent to brewtownpinup@yahoo.com
Details:
First 10 participants with paid entry fee, bio and picture will be final contestants (details below).
Submissions are open on May 1 until May 10, or until all ten open spots are filled.
An email will be sent out to all contestants after the deadline to confirm your registration and give you details for day of event.
By entering the contest, you automatically agree that your images or pictures can be used or featured in future advertisement, social media and future event promotion. Your entry is a photo release to use said images.
Dates
Thurs, 5/24: BUILD Bike Night at the Iron Horse Hotel. 5-9PM

[NOT required, but would prefer contestants join]. "Garage" or "shop" style attire would be a great addition to start working the crowd ahead of the Rumble.

Sun, 6/3: Brewtown Rumble. Check in must be complete by 12:30 PM at Fuel Café 5th Street
Possible on-stage Questions
What are your hobbies?
Tell us one interesting fact about yourself and explain more.
If you could own any kind of motorcycle, what would it be and why?
What is your favorite thing about Milwaukee?