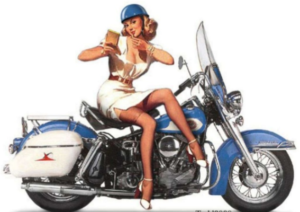 All spots are full!!
Contest Details
Must be 18+ years old.
Classic Glamour pin-up themed or inspired outfits. Such as: Dresses, circle and pencil skirts, wiggle dresses, blouses, capris, high-waisted shorts, etc. Military style outfits are welcome, tattoos as welcome!
This is a family-friendly event. No nudity, no exposed belly buttons, no flashing, no pasties, no lingerie outfits, no bikinis/thongs and no Halloween style costumes.
We encourage entries of all shapes and sizes, as this is not a beauty contest, but one to let your personality shine! We are looking for someone who is positive, professional, kind and courteous.
Entry Requirements
Must own, ride and/or appreciate motorcycles
Submission period ends May 10, or until all ten spots are filled.
Application to be filled out and sent to brewtownpinup@yahoo.com
An email will be sent to all contestants to confirm your registration and give you details for the day of the event.